Affiliate Advertising and Other Updates
BaseX has been updated. In today's update we will discuss BaseX custom affiliate marketing solution, as well as how this works together with subscription model. We will also discuss some other features that have been released as well as the roadmap of future development for BaseX.
Affiliate Marketing Information 
The Historia Team has designed an affiliate marketing to help our users help us market the BaseX platform. There are some unique features that we wanted to discuss with the community. The referrer system has both a referrer URL as well as custom banners that can be used to advertise on a web page. Either solution will help a user earn HTA. For each subscription that is refereed by the user, the referrer will earn the equivalent amount of USD in HTA.
Affiliate Marketing Page for each user. More graphics for the ads can be seen by logging into your account and viewing the Affiliate Marketing page.
The benefits of being an affiliate marketer are as following:
Benefits
20% of revenue sharing per subscription
20% recurring monthly revenue for each subscriber that is refereed and maintains active subscription.
HTA payouts (potentially BTC payouts if there is demand for this and we have enough subscriptions to make this work)
On demand payouts
USD payouts for verified users (future work)
Record keeping of transactions in app. You will see when the payouts occurs.
The Affiliate Market page can be seen below: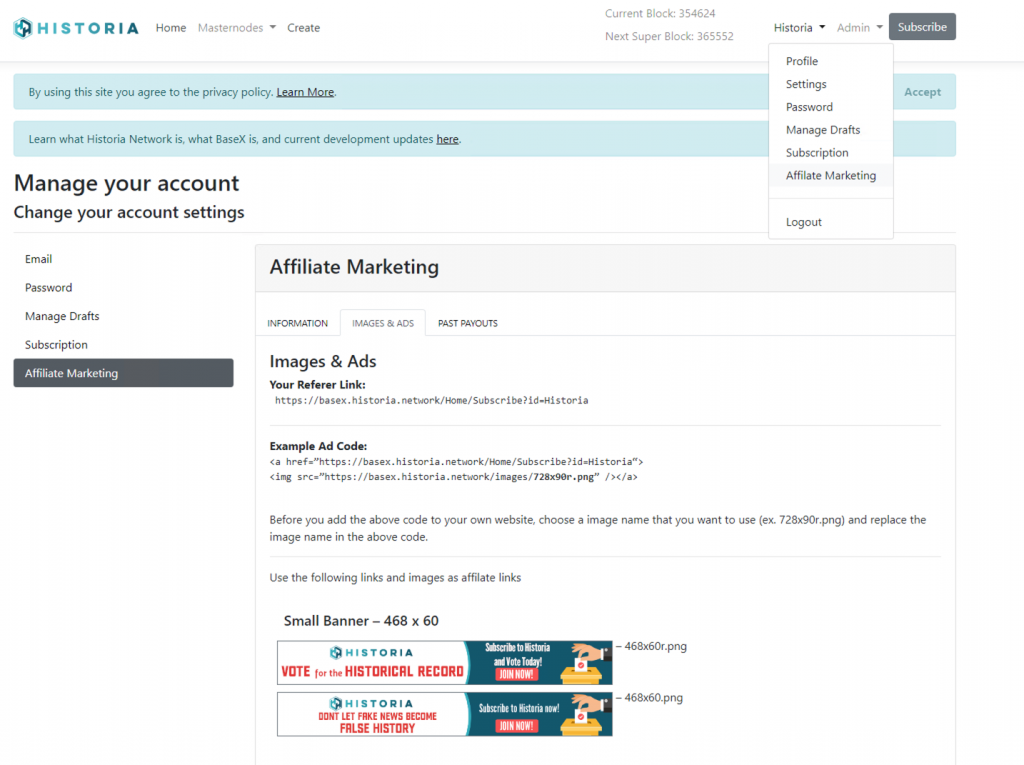 Below is a screenshot of the subscription landing page. To view the entire page, please visit this link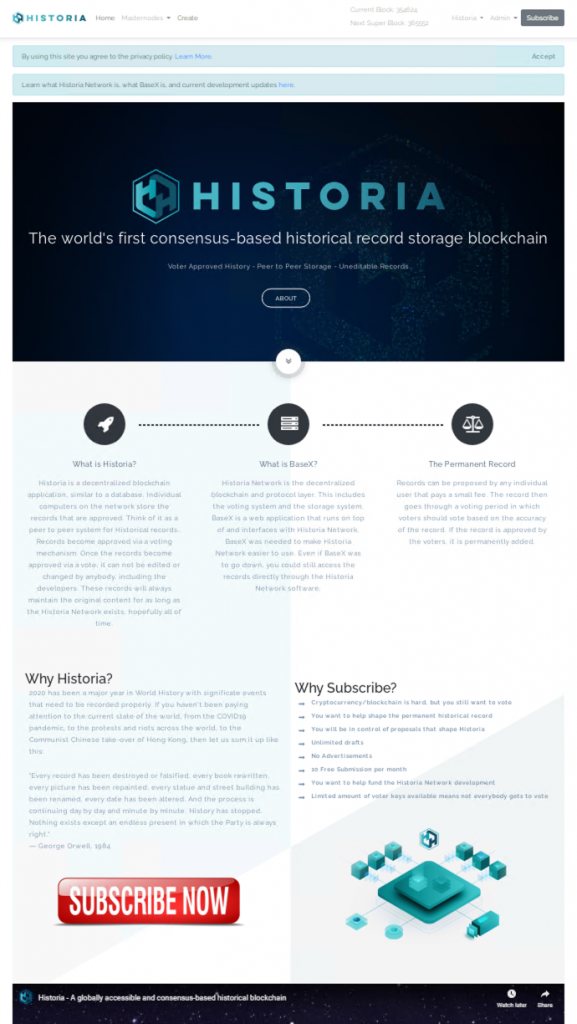 Subscription Model
The subscription model was necessary to allow for individuals that might want to use Historia, but do not have enough knowledge of cryptocurrency to actually make use of Historia or BaseX.
Current subscription price will be set at $5 to rent voting keys.
For each subscription to BaseX, Historia will buy at least 20% of the USD value in HTA coins. This will help increase the demand and the price of HTA on a monthly basis.
Subscriptions of voting keys are on a monthly basis.
New Proposals and Records
The Historia team will start adding proposals and records shortly.
We consider these "seeds" to start generating the traffic, and get people using BaseX.
Private Messaging System
We have also release a in app private messaging system for individuals to send private comments to each other without coordination off app. Further work clean up needs to be done on this, but the base system is here.
Deep Linking

Deep linking is the making use of Open Graph meta data from each HTML source to show the user information about a link before they click on it. We have enabled deep linking on all comments and messages. This was quite a bit of work, but we are happy to have it in the application.
User Reporting 
We have now added user reporting of inappropriate content. This was a needed feature in which was required to prevent spam, pornographic, and other inappropriate content from existing on the platform. We must rely on our user base to help us monitor the system.
Future Development
The Historia Team wanted to list out our priorities of what comes next with regard to the development of BaseX.
Further HTML formatting tweaks/cleanup for cleaner look.
Time Localization based off of UTC.
Infinite scrolling pagination system.
Tweaks to comment system to add sorting capibilites and further user reporting options.
Tweaks to main page to add top comments per proposal/record via comment threads, and newest comments.
Further social aspects, such as following, user profile customization, user profile statistics. Gameification. Re-sharing ability.
Further tweaks for create system, to allow for posting on users' public page before submitted for vote.
Revamp of Masternode and Voting Node Registration page.
Redo Facebook/Twitter buttons to prevent canvas tracking from third party apps.
Suggestion update mechanism.
Administration stuff.
 We are sure you'll enjoy the new improvements. As always, if you are having any issues with the new software, require assistance updating or have any feedback, please contact us on Discord.
Historia is a community project. The influence of any one superpower does not endure in Historia. The project is for the greater good of the global community with allegiance to no one except the everlasting truth of how it actually happened. If you would like to be a part Historia discussion, join us on Discord and let us know your thoughts. All spectrum of opinions and facts wanted, come all.

Want new articles before they get published?
Subscribe to our Awesome Newsletter.