Updates to Historia Client, Historia Main Web Application, and Historia Local Web Application
The Historia Client, Main Web Application, and Local Web Application have all been updated. In today's update we will discuss those new updates.
Historia Client Updates
The Historia Team has expanded the record object to include "typing" of IPFS CIDS that are added when a record object is submitted to the network. This allows for tying together the Historia record objects and allow for specific types to be associated with each record that is tied today. This allows for specific associations to be made. Further details of these associations will be made below. This is a suggested update for all clients, including masternodes. 
Historia Main Web Application and Local Web Application Updates
The updates to the web applications apply to both the Main Web Application and the Local Web Application.
On each of the records objects that are listed via the details page, there are new icons which will allow you to add a new record based on the parent record and add an associated type with that newly added record, as seen below:

 Going from left to right of the above screen shot, those functional types are the following:
"Suggest An Edit" (Versions) – Suggest an edit is the default "typing" category. This function will load the previous record into the Create Builder GUI which will allow for you to edit this previous record. This will not edit the original record, but rather make a clone of the original record, and then submit those changes as a new version.
"Add Additional Evidence" – Adding dditional evidence is a second "type". This function will allow you to add new evidence via the Create Builder GUI or the automated Archiving system. This is meant to add specific evidence supporting or adding counter evidence to the original record.
"Add To Topic" – Adding to topic is more of an open ended "type". This adds a new record associated with the parent record, but in a manner in which may or may not. The Historia team believes this function would be used most. So lets say the parent record topic is "War", any war topics could be added to this original parent topic via this function. As an second example, the parent record topic is concerning "Climate Change" any topics that would support or have counter evidence that may or may not be directly related to the original topic could be added here.
"Add Translation" – Adding translations is just what it sounds like. We have yet to fully implement this idea, but it is coming soon.
The following screen show shows the output on how this looks in the web applications. As you can see at the bottom of the screen, there are now new tabs available: "Versions, Evidence, Topics". These relate directly to the above mentioned items of Suggest an Edit, Add Additional Evidence, and Add to Topic.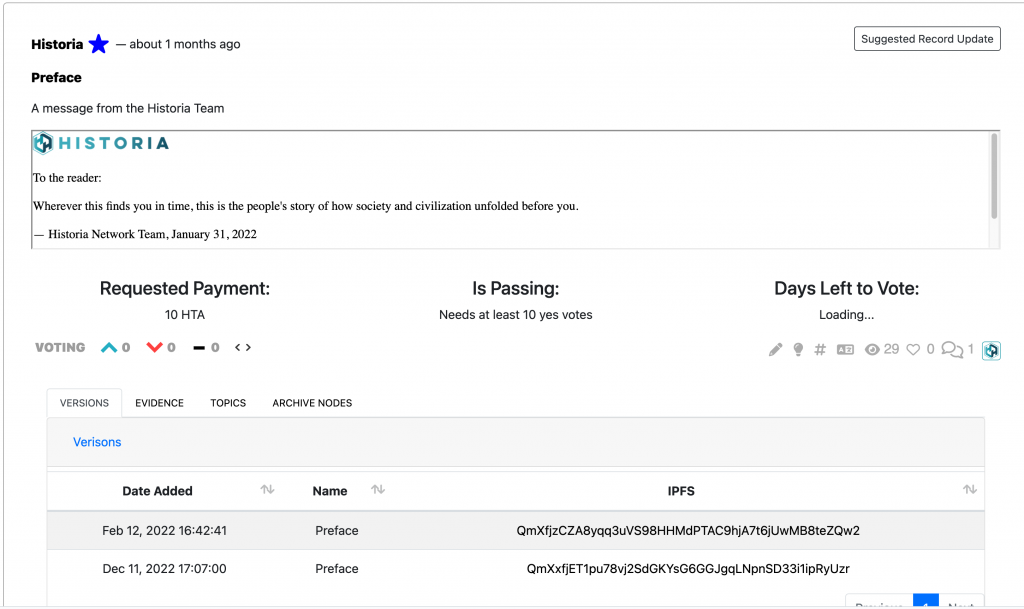 You can download the new Historia Network (HTA) client release here.  If you are looking for the new version of the Historia Local Web Application (HLWA), you can find that here.
In the next few weeks we will also be releasing videos on our YouTube page on how to setup a Masternode, how to setup a Voting node, How to setup the Historia Local Web Application (HLWA) as well as how to make use of the system.
We are sure you'll enjoy the new improvements. As always, if you are having any issues with the new software, require assistance updating or have any feedback, please contact us on Discord.
Historia is a community project. The influence of any one superpower does not endure in Historia. The project is for the greater good of the global community with allegiance to no one except the everlasting truth of how it actually happened. If you would like to be a part Historia discussion, join us on Discord and let us know your thoughts. All spectrum of opinions and facts wanted, come all.

Want new articles before they get published?
Subscribe to our Awesome Newsletter.